Tablinum: We strongly suggest you to keep an eye on Patricia Miani: her art installations already enjoy an interesting success by international art critics and her presences outside her native Argentina are multiplying and, with them, the prizes and awards.
To this interesting debut in the world of the international art system, is added an innovative vision of the concept of object of art and its interaction with the world around it.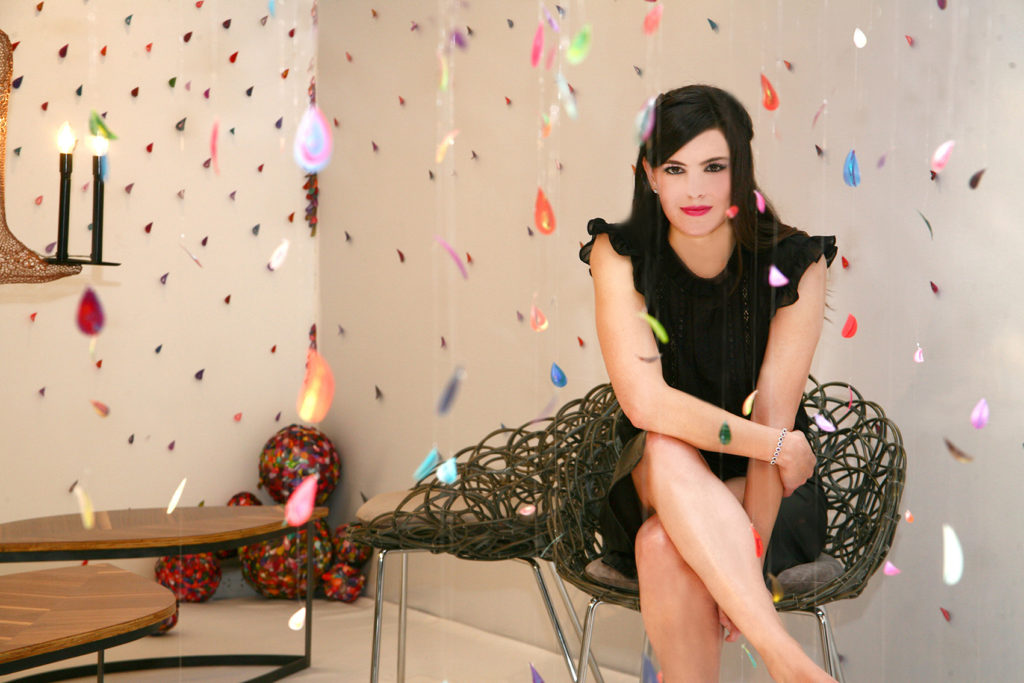 We would like to introduce Patricia Miani's art on the occasion of her exhibition at the Museum of Villa Carlotta, on Lake Como.  Here, her latest creation, the installation #Stellaria, will dialogue from 14th to 29th July 2018, with the artistic and naturalistic magnificence of this "Villa-Museum" and with its visitors who, as usual, at the height of the summer season, will come from the most different parts of the world, amplifying her artistic message. We asked her, some questions:
TCM: To start to get to know you better, I would like to start from your academic training: not only the degree in fine arts but also an interesting specialization in media and technologies for pictorial production. What are the innovations and technical findings that today can be introduced in contemporary art? How important are they in your work?
PM: Paint as a traditional practice is always the starting point and motivation in my work. I choose the paint for its history, nobility and purity intrinsic that inhabit in this ancient discipline. Setting links with its tradition and its endless plastic condition, the painting requires a time of reflection, space and thought very different from the instantaneous present at the time. I use painting techniques combined with the possibility of dialogue with other media, beyond its conventional medium and format. Removing spatial barriers and overflowing the frame, the painting is rethinking the traditional values while preserving color, shape and composition, as a general reference and ever-changing.
TCM: We can say that your works go beyond the traditional concept of two-dimensionality of the painting and also the concept of sculptural three-dimensionality, which are traditionally associated with art. Does the artistic installation help to explore a dimensionality that is finally more free than in the past?
PM: The flatness of the picture itself and the subject represented is extended and expanded in the space, and in some cases, approaches the three dimension. Through various processes and leaving open a free interpretation, my work emphasizes the manual nature of execution, extending the meaning of painting itself. Being true to my criteria and providing a practical alternative to the actual painting, it reflects and expresses my artistic interests and concern. Each stage represents a new perspective on painting and deepens its process of exploration and knowledge. The paint does not stop on the canvas, it extends encouraging its positive condition that leads to a new dynamic and state an unfinished glance of its boundaries.
TCM: Just in regards to the overcoming of the two-dimensional concept in the work of art, you have recently published a book-catalog inspired by your artistic studies and work of art. Do you want to tell us more about it?
PM: Both of my research Thesis, Graduate and Postgraduate, had been published through the Patronage Law and declared of Cultural interest by the Ministry of Culture of Buenos Aires in Argentina. The last book is the result of my Postgraduate Thesis and it has been published in Spanish and French thanks to the support of Danone Argentina and Danone France. It has been officially presented at the Argentine Embassy in Paris together with a solo exhibition. "Au delà de la bidimension picturale", proposes a reflection of the dynamic that exists between art and its destiny, as it is transported from usual places to new spaces and dimensions, allowing the spectator to know and get in touch with the artworks, building new artistic places and ways of thinking. Whether in nature, landscape or architecture, this research project proposes a journey through certain creations, where the artistic interest in the location and its context has transformed an anonymous space into a significant one. Exploring new methods of exhibition and expanding the horizon of those who appreciate it, the natural spaces not only complete the work but also exalt and appeal its meaning, modifying its own character. Carrying out ideas that greatly modify the landscape and turning the artist into a confidant of the potential of the environment as a site for artistic creation.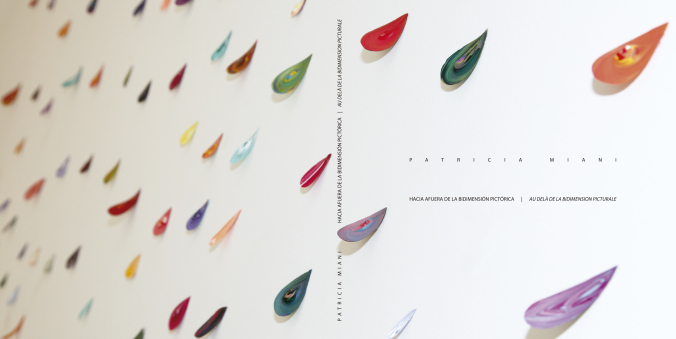 TCM: What are your main sources of inspiration? From the world of art and culture or maybe even from the everyday life around you?
PM: As a response to the environment that surrounds me and the way I want to live, watching and enjoying nature is a celebration for the soul. The beauty that nature offers us is a constant inspiration for my work. Enjoy its vibrant colors, observe the different textures, find its various forms, observe its delicate movement … I believe that nature encompasses everything in an immensely satisfying way. Creativity, in my opinion, resembles the search for a deeper existence, combined with a huge desire to live in a more inspiring, generous and full of vitality.
As inspiring artists I can mention my mentors Pablo Siquier and Carlos Bissolino, Julio Le Parc, Lucio Fontana, Antoni Gaudí, Jorge de la Vega, Gerhard Richter and Claude Monet.
TCM:Villa Carlotta is a museum and botanical garden well known in Italy and appreciated for its ability to happily combine the treasures of art with those of the natural world. An artist like you here certainly finds a very suitable environment …
PM: Art must make nature eternal in our imagination and I think that Villa Carlotta, one of the most prestigious cultural institutions in Europe where art and nature coexist in perfect harmony, reflects this concept. I feel honored to be invited to exhibit my work within this outstanding context and scenery. Taking my career further and the possibility to show my work in response to such an interesting and inspiring context will surely enrich and create a new cultural experience. I enthusiastically await to get involved in this unique environment and reflect upon its discoveries.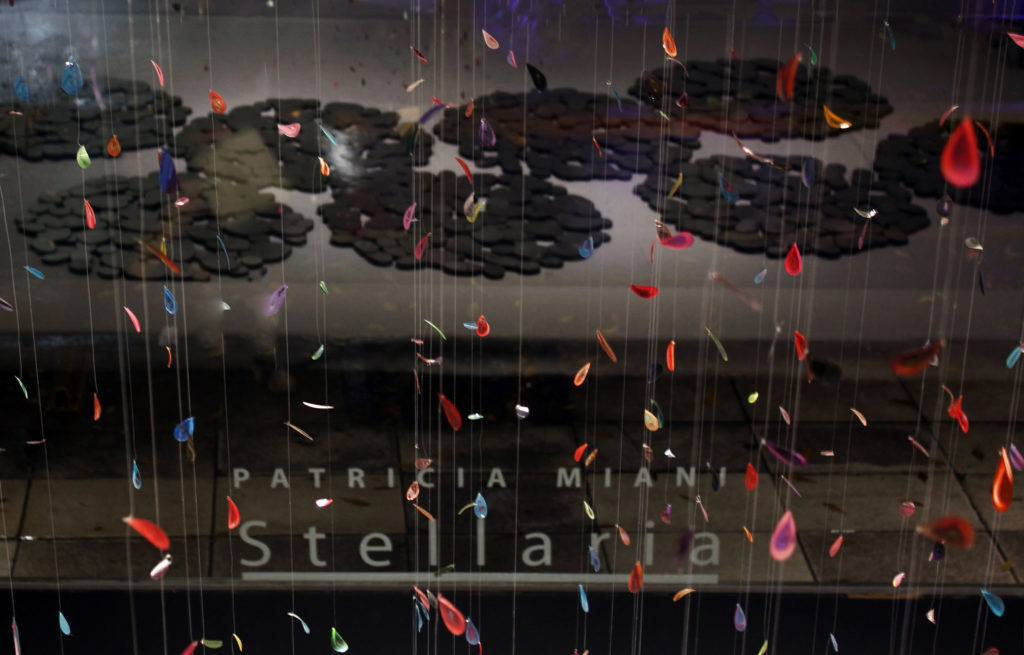 TCM: Stellaria is your latest creation, awarded at the Florence Biennale 2017 by the international jury with the Lorenzo il Magnifico prize for this installtion, and soon on show at Villa Carlotta from 14 to 29 July 2018. How is this art installation was born?
PM:I participated in the last edition of the Florence Biennale in Italy, where the theme was "eARTh – Creativity & Sustainability". My work has an important connection with sustainable development due to the use of recyclable materials. I make all kinds of procedures ranging from the recycle of plastic bottles combined with acrylic painting, to create hundreds of tiny pieces which are the unit of my artwork. "Stellaria" was born as most of the times, with a dream. In this case the idea of rain and fly comes up in the shape of this aerial installation where the nonexistence of the pictorial canvas, creates compositions that are based on independent spatial events, where colors act together and suspended in the space.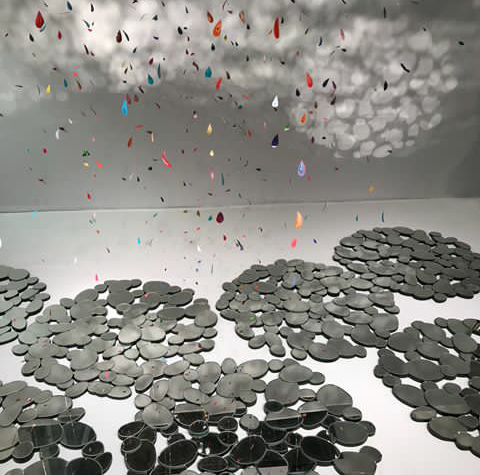 TCM: How should the ideal visitor approach your installation? Any suggestions to the many visitors who arrive at Villa Carlotta to see it?

PM: I believe that the most seductive thing about art is the personality of the artist. I think the visitor's point of view is always free. A work of art is contemplated and interpreted in a very personal and unique way. It is true that in contemporary art many works are directed or intended to cause a particular effect or result in the viewer, but in any case the experience towards a work of art is always subjective and it´s reflected on each artwork.
TCM: What are your future plans, where will we be able to admire your works after Villa Carlotta?
PM: After Villa Carlotta exhibition I will be back in Buenos Aires where I would like to show the artwork I made in collaboration with Julio Le Parc, widely considered the father of the Kinetic and Op Art movements. I had the pleasure to visit his atelier in Paris after a show we shared together with others Argentineans artists living in France at la Maison de l'Argentine in Paris. After a enriching talk in his atelier, he took one of my pieces and combined it with some of his materials and techniques, giving as a result this special collaboration. This work was the trigger to make the series "Variations" that was part of the exhibition in the Gallery of the Argentine Embassy in Paris and will be also shown in Buenos Aires.