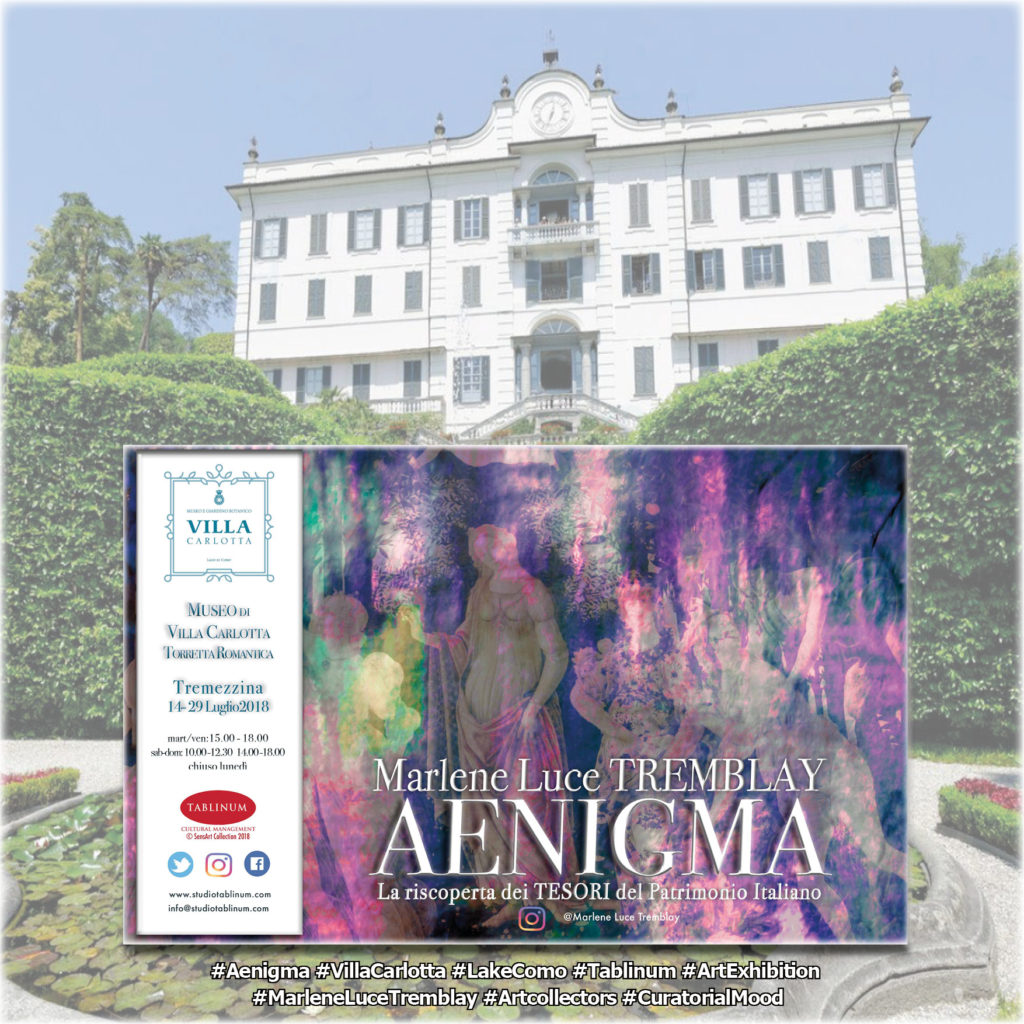 Tablinum: This article is dedicated to you. You that love Art in all its forms and think that Italy is a country rich in artistic and cultural treasures that deserve to be known and celebrated all over the world. These lines, but above all, this exhibition, AENIGMA, is for you.
Because this summer, at Villa Carlotta, we want to offer you a real journey into Beauty and we will do so admiring the works of "Aenigma Series. The rediscovery of Italian Cultural Heritage" created by Fine Art Photographer Marlene Luce Tremblay and here exhibited at the Romantic Tower Pavilon from 14 to 29 July 2018.
Marlene is definitely an internationally renowned artist. Always in the forefront to spread, thanks to her art, important cultural messages in the world. Her inestimable commitment has been recognized at the institutional level by institutions such as the UN and numerous embassies around the world so much that her works are exhibited permanently in: Egyptian Foreign Ministry and the Egyptian Tourist Authority in Cairo; the Egyptian Embassy in Embassy in London and the Egyptian Consulate in Ottawa; at the High Commission of Canada in London, in important collections of international and private companies. His exhibition Women of New York was exhibited at the UN headquarters in New York.
In Italy, in Florence, she was awarded the Lorenzo il Magnifico prize by the Florence Biennale international jury.
Her eye is always careful to analyze the Beauty that surrounds us and, like any artist worthy of its name, to go further. Now she has focused on Italy and its treasures.
But let's leave Marlene free to tell us about her artistic past and the Aenigma Collection, exhibited in an exceptional context such as the Museum of Villa Carlotta, a place of union between art and nature, among the treasures of Italian artistic heritage
Q: You are a fine art photographer with many years of experience behind and alternate the use of film photography to digital photography I would like to ask you what differences are there? Is there a way to happily combine these two different ways?
MLT: When I studied photography at the Dawson Institute of Photography in the 1980's, digital photography was not in use in those days and instead it was film photography in its classic form whether black and white or colour photography.   Film photography required much more technical skills in the laboratory as well as how to shoot pictures.
Digital photography requires computer technical skills with both the camera and to edit images. In my case, I used to shoot only in black and white and I would tint my images in the laboratory. It was a mixture of chemicals and tints.  Today I tint my images in my computer with a programme called Lightroom and in some cases, I also like to merge images to add some mystery to the image.
Q: You have created a new method: the Pintography. Could you explain to me what innovations you have made with this method?
MLT: Pintography consists of my own digital images that I transform and colour to express more emotions,  furthering the creative aspect of my art.  The images are then printed on canvas on which I add oil paint to emphasize the colour and to make the canvas come to life.  When I shoot pictures, I already see a painting as opposed to a fixed image.
Q: You held an exhibition at the UN headquarters in New York entitled Women of NY and one at a Gallery in Chelsea dedicated to The Men of New York.  Surely creating photographic portraits of so many people from all over the world and living here in NY must have been thrilling. What did these meetings with so many people give you?
MLT: The Women and Men of New York exhibitions were a very enriching experience.  In some cases, the subjects did not know each other and became friends as a result of this experience.  We held gatherings at my place for food and wine.  Each individual was interviewed by a young Italian journalist, Vincenza di Maggio, who interviewed each participant about their experience moving to New York from their home country, and what it meant to them being in New York.  The aim of these projects was to highlight what New York is about, mainly about diversity and beyond the consumer aspect of life, which the city is often portrayed.  New York is more than the shops and all that superficial stuff, it's about people coming from all over the world and the reason why it's such a vibrant city.  It was a very enriching experience for all of us and an opportunity to celebrate our common humanity while embracing our differences.
Q: Your photos reveal that you have traveled a lot during your life and places often have a leading role in your photos. What are the most important memories that you always carry with you?
MLT: My travels are very important to my art for I need new sceneries, a fresh look at each new country I visit while exploring its history and capturing what makes it special.  Most importantly though, I enjoy meeting people and have made friends all over the world as a result of my travels. In my view, this is the most enriching human experience.  People and places transform one's view of the world.  It opens the mind, more than from books, it is a life experience that becomes part of oneself as it opens the heart and a way to evolve as a human being.  As a result, one becomes more tolerant about differences.
Q: You have traveled a lot in the Middle Eastern world and you have created a sort of "photographic archeology" of the Arab world. Would you like to tell us about that experience?
MLT: Indeed I traveled to Egypt, Syria, Jordan, Jerusalem, Algeria and Tunisia. The Arab world is comprised of so many layers of history, where the birth of civilization took place.  Coming from a young country such as Canada, I can appreciate the Arab world's place in the history of the world.
Egypt was a mesmerizing experience, such a rich history and its beauty of times past.  In many ways, it changed the course of my life for it made me realize how we are a specter in the realm of time and humanity.  I would say, we are stardust in the wind.
Q: Your last photo exhibition dedicated to the Middle East was dedicated to Egypt and its treasures.
MLT: Thanks again to people I met, namely my collaborator and curator in Montreal, Bousmaha Seddiki, and Gamal Zayda who at the time was the director of the Al Aharam bureau in Montreal.  I was thereafter invited by the Egyptian Ministry of Tourism to visit Egypt in celebration of 50 years of diplomatic relations between Canada and Egypt.  As a result, the Iconic Egypt and Beyond series was exhibited in Montreal, Cairo, Paris and London.
Q: And now this new project, Aenigma, in which the main protagonist is Italian art and consequently the landscape of the Peninsula. Would you like to tell us what the inspiration for the Enigma collection comes from and what are the messages you want to give to the visitor?
MLT: Aenigma is an ode to the beauty of Renaissance Art. The great masters of the art offered masterpieces that are timeless.  I fused my images of Florence with those of the natural world which, in my humble view, is also timeless.  Nature is a work of art in itself and the masters created in that same timelessness.  Today's art world is ephemeral, likened to our consumer society. Consumerism is what our modern world is about. This is what I am trying to express, the timelessness beauty of Renaissance art and the natural world.
Q: In our exhibition at Villa Carlotta we use a beautiful video made to celebrate your works in the exhibition would you like to talk about the genesis of that?
MLT: The video was created and produced by a friend and collaborator, Oliver Huwart (Shorteaser).  We collaborated on three other projects; namely, Women and Men of New York as well as the exhibition that took place in Tunisia last year entitled: Nous les femmes.
Olivier is very talented and creative, his sensitivity resonates with mine, which makes our collaboration a wonderful experience.  I have total confidence in his creativity and leave all freedom to his creative process for each video.  Olivier is able to feel, see and understand what I am trying to express through my art with much beauty and harmony.
In the case of Eanigma, Olivier composed the music for the video which I fits so well with the subject of the series.
Olivier is a very important collaborator and I hope that we will collaborate for many more exhibitions in the coming future.
Q: A few suggestions to make the most of your visit to Villa Carlotta. Are there any aspects of Enigma that you would like to take the opportunity to highlight to our visitors?
MLT: Aenigma brings to light the beauty of the Italian culture.  Italy is well known for its way of life which is first and foremost, the quality of life.  To me, the art of living is what Italy is about from the table to the fashion world and most importantly, to its architecture and its art.
Q: How is Italy and its heritage seen through your photographer lens?
MLT: I see Italy not only as rich in history but also in every aspect of life.  It's rich in history yet a very modern society, inspiring the world for its quality of life.


https://vimeo.com/258073532